| | |
| --- | --- |
| | Was this the page you were looking for? |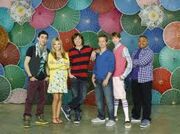 The
Wasabi Warriors
are a group of teenagers, along with their sensei, who are learning karate step by step at the Bobby Wasabi Martial Arts Academy. The group consist of students
Jack Brewer
,
Kim Crawford
,
Milton Krupnick
,
Eddie Jones
,
Jerry Martinez
, and their lovable sensei,
Rudy
. They all seem to share a great friendship, and are always there to look out for each other. They all attend the
Bobby Wasabi Martial Arts Academy
.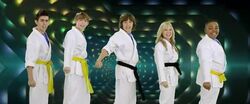 Members
Ranks
Bobby Wasabi - Black belt
Rudy - Black belt; 3rd degree
Jack - Black belt; 2nd degree
Jerry - Black belt; 1st degree
Kim - Black belt; 1st degree
Milton - Black belt; 1st degree
Eddie - Orange Belt; before he left
Marge - Unknown; seen with a white belt in Wasabi Warriors
Carson - Black belt
Arthur Turner - "Green belt" bought for him by his father
Sloane Jennings - Black belt
How Each Member Joined
The Wasabi Code
The Wasabi Code is the principles that each Wasabi Warrior lives by. The dojo was built on those principles. The code is;
"We swear by the light of the dragon's eye, to be loyal and honest and never say die. WASABI!"
If someone goes against this, it is considered breaking the wasabi code.

Ad blocker interference detected!
Wikia is a free-to-use site that makes money from advertising. We have a modified experience for viewers using ad blockers

Wikia is not accessible if you've made further modifications. Remove the custom ad blocker rule(s) and the page will load as expected.