"The Chosen One"

Season 2, Episode 13 (34)

Information
Air Date

September 17, 2012

Writer(s)

Byron Kavanagh

Director

Sean K. Lambert

Episode Guide
Previous
Next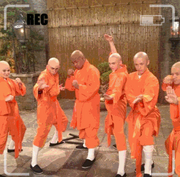 "The Chosen One" is the 13th episode in Season 2 of Kickin' It. It aired on September 17th, 2012.
Plot
The gang gets the opportunity of a lifetime to spend a weekend training with the legendary Shaolin Warriors at their temple. But they're in for a surprise when the ancient Grandmaster Po announces that Jerry is the Chosen One destined to save the temple from a looming dark cloud. Meanwhile, Jack and Kim challenge each other to walk on the 'Path of Fire' and Milton struggles to keep a vow of silence. Zang is Trying to steal the Shaolin Gas.
Cast
Photo Gallery
To view the The Chosen One gallery, click here.
Ad blocker interference detected!
Wikia is a free-to-use site that makes money from advertising. We have a modified experience for viewers using ad blockers

Wikia is not accessible if you've made further modifications. Remove the custom ad blocker rule(s) and the page will load as expected.