Rio Mangini



No Title

No information

Occupation:

Pianist, Actor

Role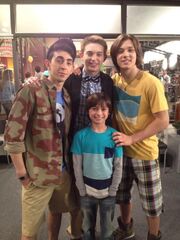 Rio Mangini is an actor and pianist. He plays Sam, an recurring character from Kickin' It's season 3 (first appearing in Dueling Dojos). Privately, he's a fan of Kickin' It, works of J.R.R. Tolkien (especially The Hobbit), he also enjoys fencing. He won several awards for his piano performances. "I'm not all that like Sam. While Sam would rather be causing trouble I would be reading a good book or watching the Hobbit", says Rio.
Rio Gallery
To view the Rio Mangini gallery, click here.
Links
Ad blocker interference detected!
Wikia is a free-to-use site that makes money from advertising. We have a modified experience for viewers using ad blockers

Wikia is not accessible if you've made further modifications. Remove the custom ad blocker rule(s) and the page will load as expected.