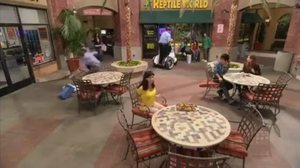 Reptile World is seen most of the time when the Wasabi Warriors hang out in the Bay View Mall. In Road to Wasabi, Rudy surprisingly gets a job at Reptile World after Jack got him fired from the dojo. Also in the same episode, at the end, the gang film Bobby Wasabi verses Pirahnapus which is held outside of Reptile world and also Lonnie takes part in the film as a shop owner who owns Reptile World and who is being attacked by Pirahnapus.
Ad blocker interference detected!
Wikia is a free-to-use site that makes money from advertising. We have a modified experience for viewers using ad blockers

Wikia is not accessible if you've made further modifications. Remove the custom ad blocker rule(s) and the page will load as expected.