"Meet the McKrupniks"

Season 3, Episode 5

Information
Air Date

May 6, 2013

Writer(s)

J.J. Wall

Director

Sean Lambert

Episode Guide
Previous
Next
Meet the McKrupniks is the fifth episode in Season 3 of Kickin' It. It aired on May 6th, 2013.
Plot
When the gang accompanies Milton to a family reunion in Scotland, they accidentally awaken a century old feud between Milton's ancestors, the McKrupnicks and their giant counterparts, the McCrarys. Meanwhile, Rudy and Jerry set out to snap a picture of the Loch Ness Monster.
The Family Games
Church Door Flip (Kim vs Megan McCrary) Winner: Megan
Log Competition (Jack vs. Unnamed Guy) Winner: Jack.
Boulder Lifting (Milton vs.Angus McCrary) The match ended in a tie.
Memorable Quotes
Kim: Did I win?
Jack: You all right there Kim?
Kim: (flattened by church door) Yeah, I think so, Why?
Jack: Oh, I don't know. You're  lookin a little pancakeish.
---
Kim: Look, Milton we gave it our best shot.
---
Jerry: What's a kilt?
Milton: It's like a skirt for men.
Jerry: I'm in.
---
Rudy: You know how the Wasabi Code says to never say die?
Jerry: Yeah, I love that saying.
Rudy: It's time to say die.
Cast
Rock Anthony as Angus McCrary
Hannah McIalwain as Megan McCray (From The Glee Project)
Trivia
In this episode, it shows that Kim has incredible strength, being able to lift a 200-pound object for a few seconds. She is also impossibly durable, since the 200-pound door fell on her, and she was unharmed when she came out, even though normal people would have been killed or seriously injured.
In previous episodes, Milton's last name is "Krupnick" as in My Left Foot, Home Alone at School, and many others, however his name is "McKrupnick" in this episode.
Photo Gallery
To view the Meet the McKrupnicks gallery, click here.
Video Gallery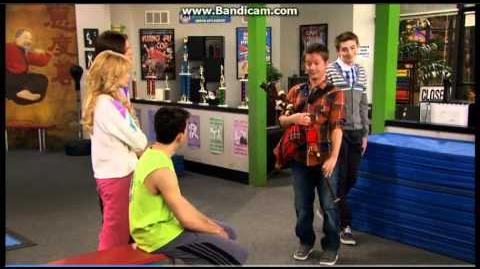 Ad blocker interference detected!
Wikia is a free-to-use site that makes money from advertising. We have a modified experience for viewers using ad blockers

Wikia is not accessible if you've made further modifications. Remove the custom ad blocker rule(s) and the page will load as expected.