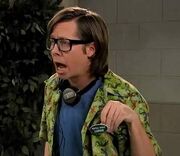 Lonnie is one of
Rudy
's frenemies. They have been seen fighting (like during
Fat Chance
) but Lonnie also gave Rudy a job in
Road to Wasabi
. Lonnie and Rudy also tricked Lonnie's iguana into "releasing" Rudy's rice. He thinks wet T-shirt parties are the best part of spring break. He works with lizards and owns a place in the Seaford Strip Mall.
Appearances
He is portrayed by Peter Oldring.
Ad blocker interference detected!
Wikia is a free-to-use site that makes money from advertising. We have a modified experience for viewers using ad blockers

Wikia is not accessible if you've made further modifications. Remove the custom ad blocker rule(s) and the page will load as expected.