"Gabby's Gold"

Season 3, Episode 11

Information
Air Date

August 12, 2013

Writer(s)

Itai Grunfeld

Director

Sean K. Lambert

Episode Guide
Previous
Next
Gabby's Gold is the eleventh episode in Season 3 of Kickin' It and featured Olympic gymnast Gabby Douglas as a special guest star. This episode aired on August 12, 2013.
Plot
After suffering a humiliating loss, Kim's entire gymnastics team quits on her, including the coach. With only one week left before the big meet against Seaford's arch rivals, Kim is ready to accept defeat, until Milton crosses paths with Olympic gold medalist Gabby Douglas and recruits her to coach the team. The Gang also fights some Escaped Prisioners.
Cast
Gabby Douglas (an Olympic gold medalist) as Herself
Kaylee Byrant as Tori 
Trivia
It is revealed that Milton and Julie broke up.
Jack and Kim are dating in this episode
Jerry is really good on the rings.
Rudy currently has Gabby's medals.
This is the first episode mentioning Kim being on the Gymnastics team.
Goofs
Kim and Jack seemed surprised when Milton said that he and Julie broke up by stating "You went out with Julie?" but Kim was the one who set them up in the episode Clash of the Titans. This is likely for humor.
Photo Gallery
To view the Gabby's Gold gallery, click here.
Video Gallery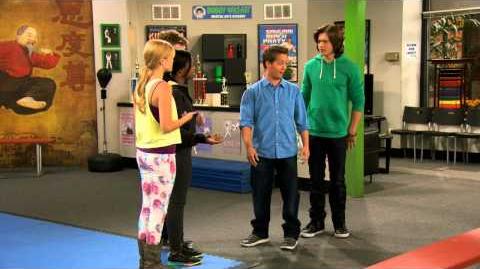 Ad blocker interference detected!
Wikia is a free-to-use site that makes money from advertising. We have a modified experience for viewers using ad blockers

Wikia is not accessible if you've made further modifications. Remove the custom ad blocker rule(s) and the page will load as expected.