"Eddie Cries Uncle"

Season 2, Episode 4 (25)

Information
Air Date

April 23, 2012 {{{pc}}}

Writer(s)

Jim O'Doherty

Director

Sean McNamara

Episode Guide
Previous
Next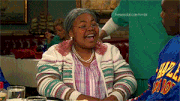 "Eddie Cries Uncle" is the 4th episode in Season 2 of Kickin' It. It first aired on April 23, 2012 in the United States. It features the only appearance of special guests Harlem Globetrotters
Plot
When the gang's intramural basketball league is shut down for lack of funding, the kids take it upon themselves to raise the money to save it. Eddie has bragged for years that his uncle is Big Easy from the Harlem Globetrotters, but he is forced to put his money where his mouth is when he learns that the 'Trotters' are coming to town for a Trick Shot Competition. Meanwhile, Phil and Rudy get dressed up to sell chocolate coated falafel balls during the game, but unbeknownst to them, their outfits closely resemble that of Willy Wonka and an Oompa Loompa.
Cast
Harlem Globetrotters (special guests)
Photo Gallery
To view the Eddie Cries Uncle gallery, click here.