Ad blocker interference detected!
Wikia is a free-to-use site that makes money from advertising. We have a modified experience for viewers using ad blockers

Wikia is not accessible if you've made further modifications. Remove the custom ad blocker rule(s) and the page will load as expected.
"Dojo Day Afternoon"

Season 1, Episode 4 (4)

Information
Air Date

June 16, 2011

Writer(s)

Jim O'Doherty

Director

Eric Dean Seaton

Episode Guide
Previous
Next
Dojo Day Afternoon is the fourth episode of season one of Kickin' It. It aired June 16 2011. It features the only appearance of Arthur Turner.
Plot
Arthur Turner
, the obnoxious son of the new mall owner, joins the Bobby Wasabi dojo, and
Rudy
bends over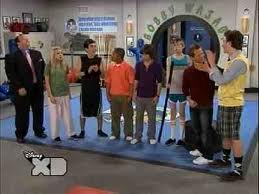 backwards to please him. But Arthur rubs everyone the wrong way and uses his advantages to make the gang miserable. After an altercation with
Jack
, Arthur's dad forces Rudy to kick Jack out of the dojo or he will bring in a wrecking ball and turn the dojo into a parking lot. Rudy proves his loyalty to Jack and the gang by chaining himself inside the dojo to try to prevent the dojo from becoming history.
Kim
tries to get better stories to document on the news team and gets her chance when head reporter Margaret arrives at the mall, and almost gets hit by a wrecking ball. Kim takes over and finally gets her story.
Cast
Sterling Beaumon as Arthur Turner
Noelani Bailey as Margaret
Jerry Kernion as Mr. Turner
Trivia
Kim is a reporter for the school news.
It is revealed that Arthur has a green belt, but it's because his father bought it for him.
This episode is the first one to show how protective Jack is of Jerry because when Arthur's punching dummy took out Jerry, it sparked Jack's anger and made him lose his temper. Jack would've attacked Arthur if Kim didn't hold him back.
Fights
Karate Skill Challenge: Jack vs Arthur - Winner: Jack
Dojo Battle: Jack vs Arthur - Winner: Jack
Wrecking Ball Battle: Jack vs Arthur - Winner: Jack
Photo Gallery
To view the Dojo Day Afternoon gallery, click here.