"Clash of the Titans"

Season 1, Episode 13 (13)

Information
Air Date

November 14, 2011

Writer(s)

Frank O. Wolff

Director

Shelley Jensen

Episode Guide
Previous
Next
Clash of the Titans is the 13th episode of season one of Kickin' It. It first aired on November 14, 2011 in the United States.
Plot
When Milton falls for Julie, a brilliant and smart girl in his chemistry class, Jack and Kim join forces and try to make them a couple. But when Julie's uncle, who happens to be Sensei Ty from the Black Dragons, and Rudy, ban them from seeing each other, Milton and Julie decide their feelings for each other outweigh the rivalry between their dojos and try to mantain a relationship in out of the way places (such as the alley). Meanwhile, Jerry and Eddie battle to be the best rappers in the strip mall complex. In the end, they get beaten by the mall security cop Joan.
Cast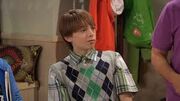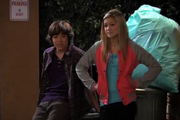 Best Moments:
Kim: So Milton likes Julie, and Julie likes Milton. Do you know what this means!?!
Jack: Yes I do, it's a perfect storm of Nerd Love.
Jack: What just happened?
Kim: I'll tell you what just happened. They just broke up with us!
Trivia
Jack says the same phrase he says on Wasabi Warriors "You probably shouldn't have done that." He says it again at the end. (Thus making it his catchphrase)
It is revealed Frank is 19 and still in the seventh grade (means he has the mind of a seventh grader.)
This is the first ever episode to have a subplot in different characters.
Milton gains a love interest (Julie).
Ty and Rudy have been in a fight for 15 years because Rudy beat Ty, and Ty believed Rudy "tooted" him off the stump, when really the grand master did.
This episode is also called "Love Hurts"
This episode could be another version of "Romeo And Juliet"
It is revealed that Jack is not a good rapper, though Eddie, Jerry and Joan are shown to be, with Joan being the best.
Fights
Alley Battle: Jack and Kim vs Black Dragons - Winner: Jack and Kim
Flashback of Rudy and Ty's Knockdown Challenge: Rudy vs Ty - Winner: Rudy
Falafel Phil Battle: Rudy vs Ty - Winner: Rudy
Photo Gallery
To view the Clash of the Titans gallery, click here.
Ad blocker interference detected!
Wikia is a free-to-use site that makes money from advertising. We have a modified experience for viewers using ad blockers

Wikia is not accessible if you've made further modifications. Remove the custom ad blocker rule(s) and the page will load as expected.